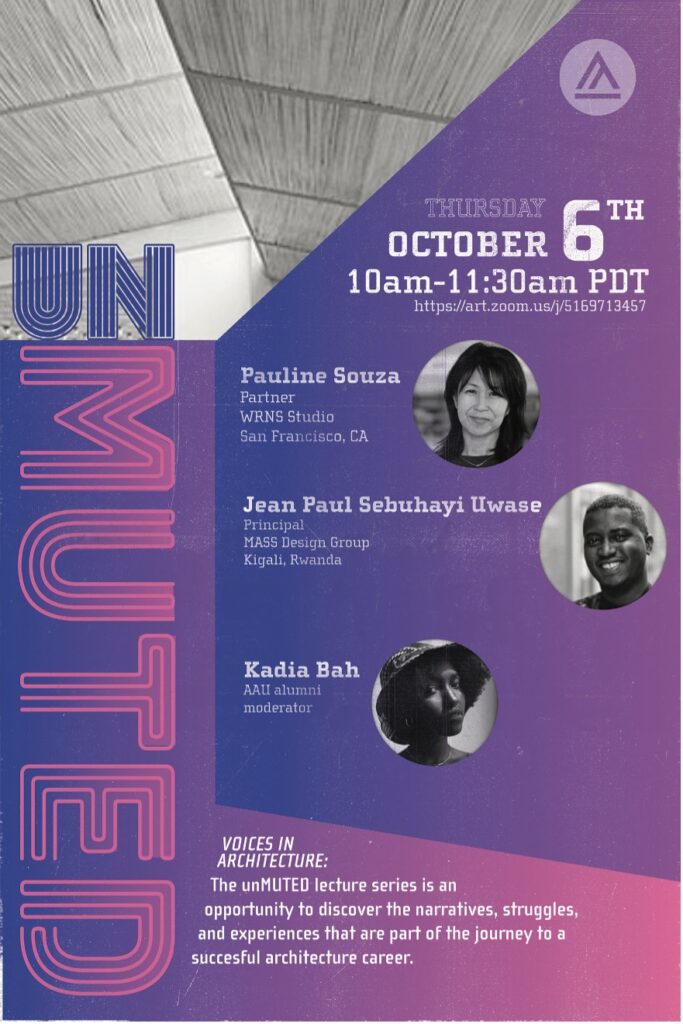 unMUTED Lecture
We are very excited to announce the first lecture in our unMUTED series on the theme of environmental justice. 
Thursday, October 6th, 10:00am-11:30am PDT
Recording of the event (will expire)
Recording of the event for the AAU community 
The unMUTED lecture series centers the diverse voices in architecture to lift up the narratives, struggles, and successes of architects' journeys. Previously called Ethics and Leadership, we are celebrating our 9th year of bringing architects' stories to architecture students. Our fall panel consists of the accomplished and amazing voices of:
Jean Paul Sebuhayi Uwase
Principal Mass Design Group
Kigali, Rwanda
https://massdesigngroup.org/team/jean-paul-sebuhayi-uwase
"I am a believer that everyone deserves beautiful Architecture, and it is my duty as an Architect to best serve the community."
Pauline Souza
Partner, Director of K – 12 and Community Studio
San Francisco, CA
https://www.wrnsstudio.com/people/pauline-souza/
Pauline's practice is rooted in a deep respect for people — those with whom she's working to build something healthy, inspirational, and functional, and those who will spend their days in the environments we craft.
Moderator:
Kadia Bah, AAU alumni