Faculty member Argelia Barcena is invited to speak at the Latin@s in Design Technology panel at the annual Autodesk Conference in New Orleans, September 27-29th 2022.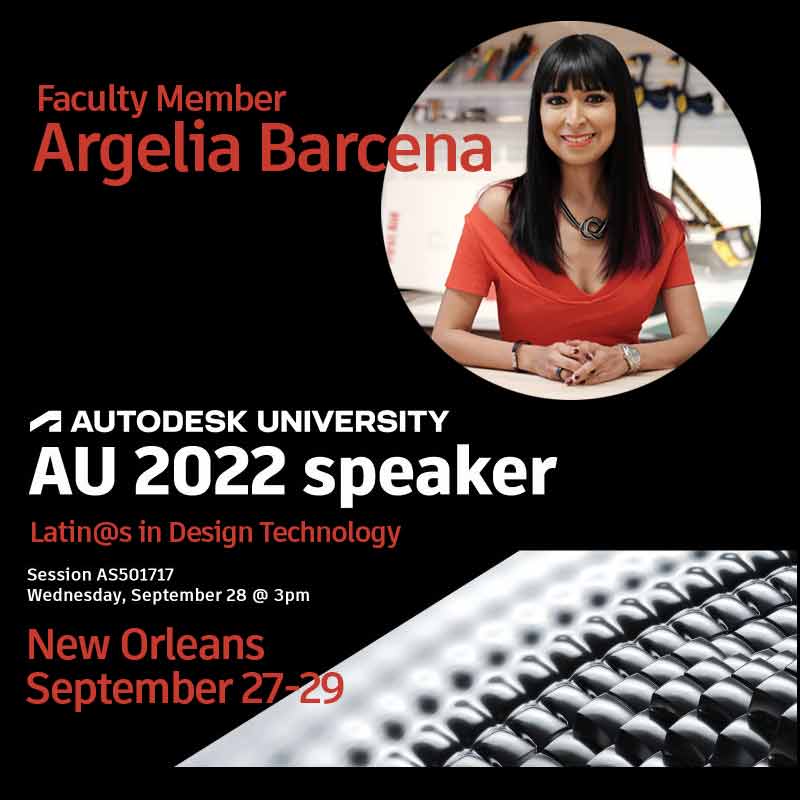 The conference panel (AS501717)  will showcase a group of multicultural Latin@s actively contributing to the architecture profession on the aspect of design technology. They are making big impacts, challenging the status quo, and revolutionizing the architecture, engineering, and construction (AEC) industry globally. This is an arena dominated by men, where women represent a small percentage of the architecture professionals with this particular expertise-a much smaller number representing the Latin American community and going beyond gender. These panelists' careers pivoted from the typical architecture role to embrace ever-evolving design technology. Unicorn architecture professionals come with the design technology expertise bonus. We will discuss career trajectory, perspective, and representation. The panel will include representatives from Gensler, HMC Architects, and slantis.
Argelia Barcena holds an Architecture degree and is a Regional Design Technology Manager at Gensler, where her role covers the Northwest Region (the US and Canada). With 20+ years of experience in the architecture, engineering, and construction field, she has worked for several architecture firms throughout those years, including a couple of global firms. She has also served as adjunct faculty for several colleges/ universities in San Francisco, including the Academy of Art University. She has authored two books on the topic of Building Information Modeling. Argelia has been a speaker for the San Francisco AIA Chapter as well as for the USC BIM Symposium. She has also served as an exam writer for Autodesk's Revit Certified Professional Exam. An architecture graduate, her career started off in a typical path of designing spaces and buildings and halfway through her career it pivoted towards design technology, given her highly technical skills and interests.
Here is a direct link to the session: https://autodeskuniversity.smarteventscloud.com/cap/app/sessions#675246