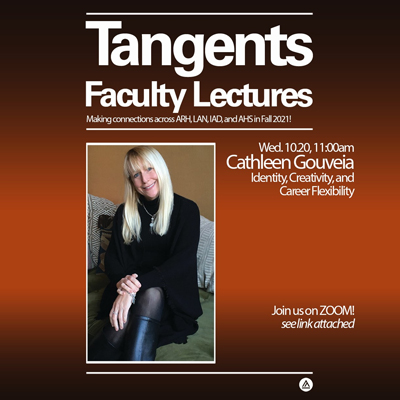 Identity, Creativity, and Career Flexibility
Cathleen Gouveia
Interior Architecture & Design
View a recording at https://video.academyart.edu/channel/TANGENTS/
Cathleen speaks about changing careers and the process of assimilation between advertising and interior design. Creative people can have more than one true passion, and changing careers helps you explore your identity, creativity, and fulfillment in life. Sometimes it is planned from the beginning through analysis. Sometimes it is a revelation.
When: Wednesday 20 October 2021, 11:00am (Pacific)
Where (Zoom): https://art.zoom.us/j/94372018015
The TANGENTS series features faculty from Architecture, Landscape Architecture, Interior Architecture & Design, and Art History, offering their diverse interests and passions to students in the form of brief and informal talks of about twenty minutes, before opening to questions. Utilizing the breadth of our faculty's experience, TANGENTS talks graze the edge of our curricula while enriching it. There will be six total talks this Fall from a range of faculty across the four departments. TANGENTS is hosted by Braden Engel, Architecture History + Theory Coordinator.