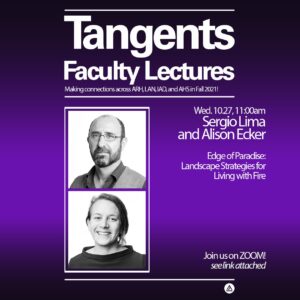 Edge of Paradise: Landscape Strategies for Living with Fire
Sergio Lima and Alison Ecker
Landscape Architecture
View a recording at https://video.academyart.edu/channel/TANGENTS/
Sergio and Alison (of SWA) introduce a project for mitigating risk within and around the Town of Paradise, California, which was destroyed by the 2018 Camp Fire. Drawing heavily from landscape ecology and indigenous principles of prescribed fire management, the project identifies a regional network of patches and corridors that can be leveraged as effective spatial drivers for implementing context-specific burn strategies in the wildfire-prone landscapes of California.
When: Wednesday 27 October 2021, 11:00am (Pacific)
Where (Zoom): https://art.zoom.us/j/94154226129
The TANGENTS series features faculty from Architecture, Landscape Architecture, Interior Architecture & Design, and Art History, offering their diverse interests and passions to students in the form of brief and informal talks of about twenty minutes, before opening to questions. Utilizing the breadth of our faculty's experience, TANGENTS talks graze the edge of our curricula while enriching it. There will be six total talks this Fall from a range of faculty across the four departments. TANGENTS is hosted by Braden Engel, Architecture History + Theory Coordinator.