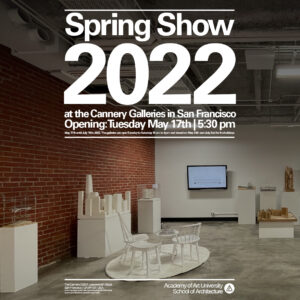 Come see our Spring Show opening tomorrow!
Spring Show 2022 celebrates a rich, immersive future as imagined by the next generation of creative artists
We are happy to announce the in-person return of the Academy of Art University's highly anticipated annual Spring Show which will open to professionals, industry, media, and public visitors on May 17th, 2022 – at 5 pm PDT at the Cannery Galleries in San Francisco.
The Cannery 2801 Leavenworth St, San Francisco, CA 94133
Visitors are invited to attend the Academy of Art 2022 Spring Show in person from May 17th until July 15th, 2022 at Cannery Galleries in San Francisco. The galleries are open Tuesday to Saturday 10 am to 4 pm and closed on May 28th and July 2nd for the holidays. 
The event can also be viewed online by visiting https://springshow.academyart.edu/