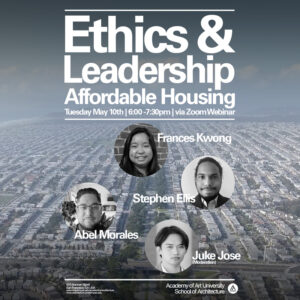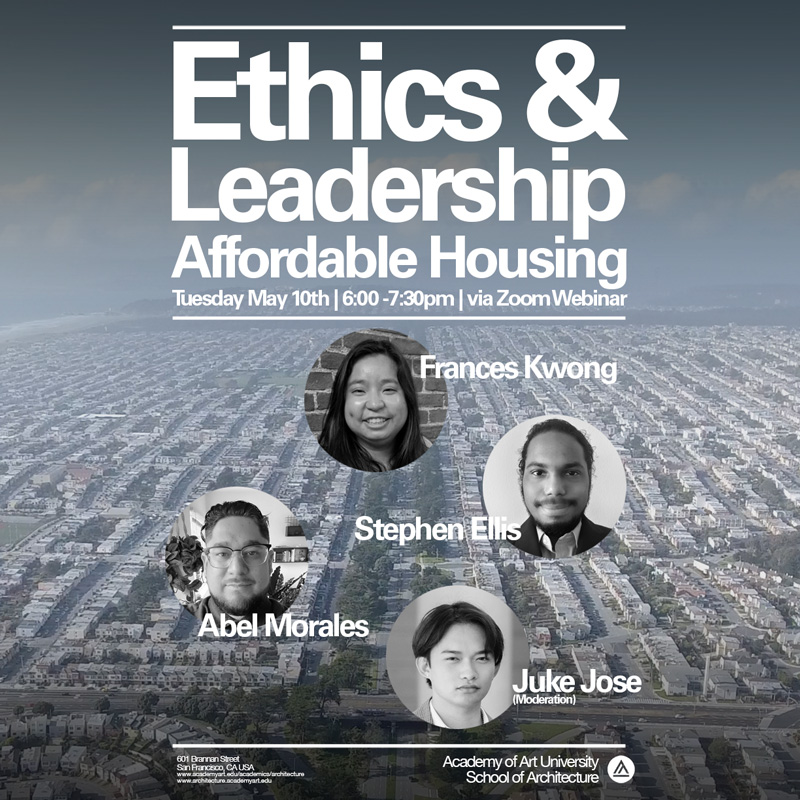 Ethics & Leadership Panel on Affordable Housing
Spring 2022 Ethics and Leadership panel was held on Tuesday, May 10, 6:00 pm – 7:30 pm PT. Moderated by Juke Jose (B.Arch. alum 2021), panel members Stephen Ellis, Frances Kwong, and Abel Morales shared their trajectories that led them to a career in Affordable Housing. The speakers shared their amazing stories with humility and transparency. They described how their career paths were shaped by their purpose. Their clear-eyed account of what it takes to get affordable housing built, and the reward they each feel in their work, inspired us all. We would like to share the Zoom recording for those who weren't able to attend.
https://art.zoom.us/rec/share/uXPorH2EJrKDeTgKf3PgL7S8RXeUOwFblSwO_YvvetgBKX7mh2HgprHmV1kaolGe.mHo9A5-Gl7NmkY5j
Juke Jose is an artist and architectural designer. Juke graduated with a degree of Bachelor in Architecture at the Academy of Art University in 2021. In 2020, he co-founded NOMASAAU. Juke is an alumnus of the Non-Profit Housing Association of Northern California's Bay Area Housing Internship Program, where he worked at Tenderloin Neighborhood Development Corporation as an assistant project manager for housing development. He was born and raised in Manila, Philippines, and is currently based in San Francisco, CA.
Stephen Ellis began his professional experience in the Bay Area and has over five years of practicing as a registered architect. During his time in the Bay Area, he developed an expertise in multi-family housing, primarily with high-rise and large-scale projects sized over 200,000 sqft. Lessons learned from developing a variety of projects fed his passion for user-oriented design at the community scale, supporting some of the grassroots stakeholders in San Francisco. This work consists of pro bono services for United Playaz and West Bay Filipino Center in SoMa and advising on a STEAM program for Rosa Parks Elementary School. As an instructor at the Academy of Art University, he aspires to build in his students an awareness of community needs and emotional connections to underserved users of design and to develop their architectural styles rooted in positivity, thoughtfulness, and sensitivity.
Frances Kwong is an architect with LMSA in San Francisco; after graduating with a BA in Architecture from UC Berkeley, she began her career working for Americorps, building Habitat for Humanity affordable homes in the Denver, Colorado area. Working alongside partner families and volunteers to build affordable homes, she found a voice and a passion for socially-relevant work that makes a real difference in people's lives. She continues that work today at LMSA – collaborating with engaged and thoughtful designers on a range of projects and working closely with clients to fulfill their mission to the individuals and communities they serve.
Abel Morales is a Project Manager for David Baker Architects and is a skilled architectural designer and project leader with 16 years of experience creating community-based mixed-use and workforce housing; restaurant, retail, and hospitality spaces; and sustainable projects utilizing clean technology and materiality. Abel serves as an active and dedicated mentor, guiding architecture undergraduates at the Academy of Art University and teaching professionalism workshops with CASA, a Latino architect student organization at UC Berkeley, and has published articles about his experience and philosophy with intergenerational mentorship.
Tuesday, May 10th, 2022, 6-7:30 pm Pacific
Email architecture@academyart.edu for the Zoom link and Meeting ID
May is Affordable Housing month hosted by EBHO (East Bay Housing Organizations). There are opportunities to tour new affordable housing construction sites, connect with residents of affordable housing, and attend webinars. The public education campaign by EBHO dovetails nicely with the Ethics and Leadership panel for students interested in affordable housing and social justice issues.
Please view the events at https://ebho.org/events/