We congratulate our Faculty Member and History Theory Coordinator Braden R. Engel, PhD, on his first Book Publication!
Cambridge Scholars Publishing; 1st edition, Hardcover (June 1, 2022)
The book can be ordered here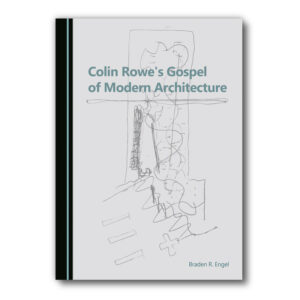 About the Book
Colin Rowe is recognized as one of the most influential architecture teachers of the twentieth century, yet he is more popularly known for his critical essays. This book investigates the methods that made Rowe such an influential teacher. Paralleling the promises of the modernists to biblical prophecies of salvation, Rowe led his students into the temptations of modern architecture in order to test their convictions in architectural design. Everything Rowe did taught, and, beyond his published writing, this book uniquely pulls from his personal notes, sketches, talks, and thoughts. This analysis of Rowe's use of irony, paradox, ambiguity, and subversion will benefit educators and designers interested in the roles of mischief and curiosity in creative endeavors. The book offers a more balanced appreciation of Colin Rowe, while rethinking attitudes to pedagogy, historical interpretation, and meaning in the arts.
About the Author
Braden R. Engel, PhD, is an educator and writer. He has taught and published internationally across a variety of fields including art and architectural history and theory, design philosophy, and visual culture. He is currently History and Theory Coordinator in the School of Architecture at the Academy of Art University in San Francisco.
Publisher ‏ : ‎

Cambridge Scholars Publishing; 1st edition (June 1, 2022)

Language ‏ : ‎

English

Hardcover ‏ : ‎

285 pages

ISBN-10 ‏ : ‎

1527582949

ISBN-13 ‏ : ‎

978-1527582941