The Harvard Joint Center for Housing Studies
Addressing Homelessness: What Can (and Can't) Architecture Do?
20th Annual Dunlop Lecture with Michael Maltzan
You can find more information and the registration for this Event on The Harvard Joint Center for Housing Studies website.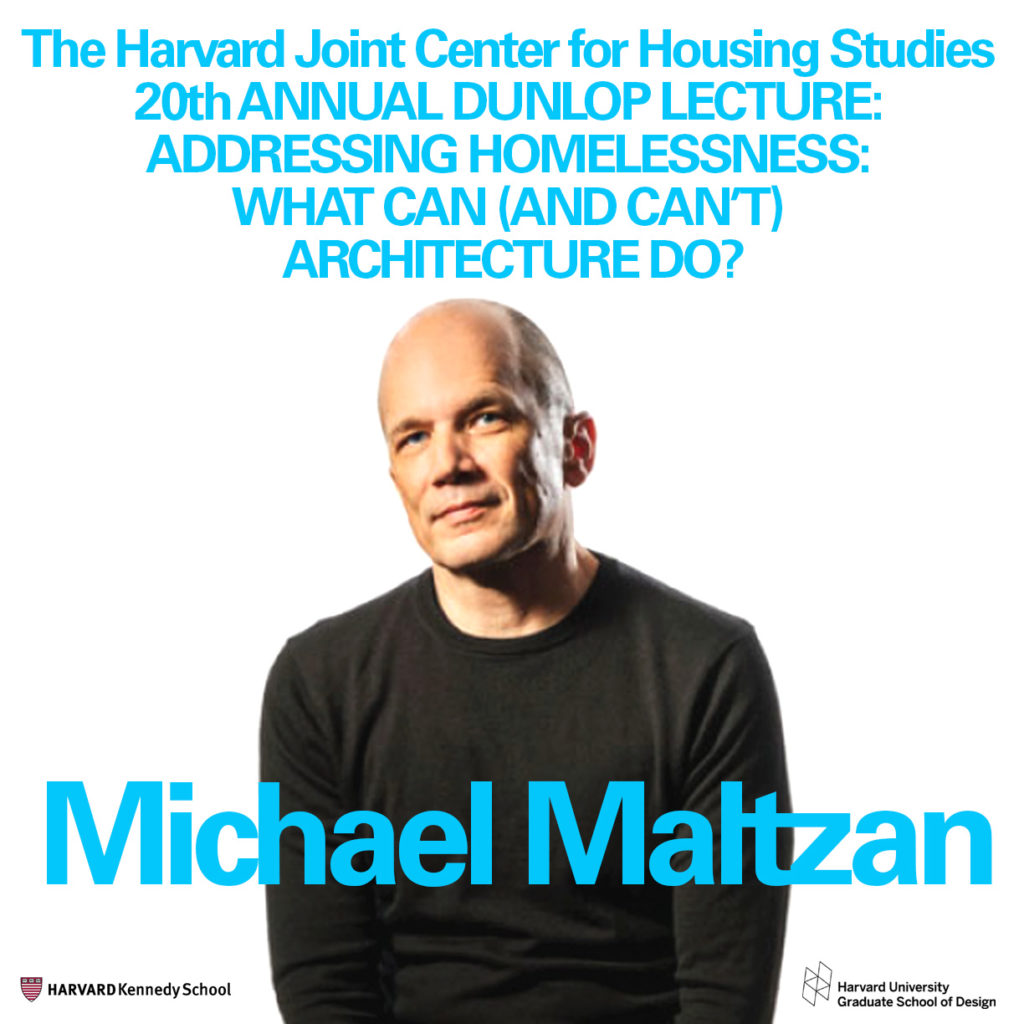 Location: Virtual
Speaker(s): Michael Maltzan, Mike Alvidrez, Helen Leung, Dean Sarah Whiting
20th Annual John T. Dunlop Lecture
Over the past two decades, Michael Maltzan, FAIA and his firm Michael Maltzan Architecture have designed a variety of innovative, permanent supportive housing developments for the Skid Row Housing Trust in Los Angeles. Founded in 1995, Maltzan's award-winning practice is dedicated to the design and construction of projects which engage their context and community through a concentrated exploration of movement and perception. The Skid Row projects, which serve formerly homeless people who are HIV-positive, elderly, veterans, and/or suffering from chronic physical and psychological disabilities, not only provide affordable housing but also include critical social infrastructure, such as health care and supportive services, that help individuals lead more stable lives. While Maltzan has cautioned that architects have to be realistic about architecture's ability to create wholesale social change, he has also asserted that architecture can't stand back, and must assume an active role in the realization of sociological and psychological benefits that entities like the Housing Trust are trying to make possible.
In the 20th Annual John T. Dunlop Lecture, rescheduled from the Spring, Maltzan will discuss his work with the Skid Row Housing Trust and what it suggests about the ways in which architecture and other design professions can help address problems of housing affordability and homelessness. After the lecture, Mike Alvidrez, CEO Emeritus of the Skid Row Housing Trust, and Helen Leung, Co-Executive Director of LA-Más, a non-profit urban design organization in Los Angeles, will join Maltzan to discuss the lower-income and underserved communities they serve in Los Angeles.
This event was rescheduled from Spring 2020, due to the COVID-19 pandemic.
You will need Zoom to attend this event.