Kid of Parts for the Bayview Commons Apartments, B Arch Collaborative Project, Building Lab – b.Lab
Faculty: Sameena Sitabkhan, NOMA
Students: Adam Nuru, Markish Siojo, Dylan Ingle, Fabio Lemos, Xiaohuan Corona Gao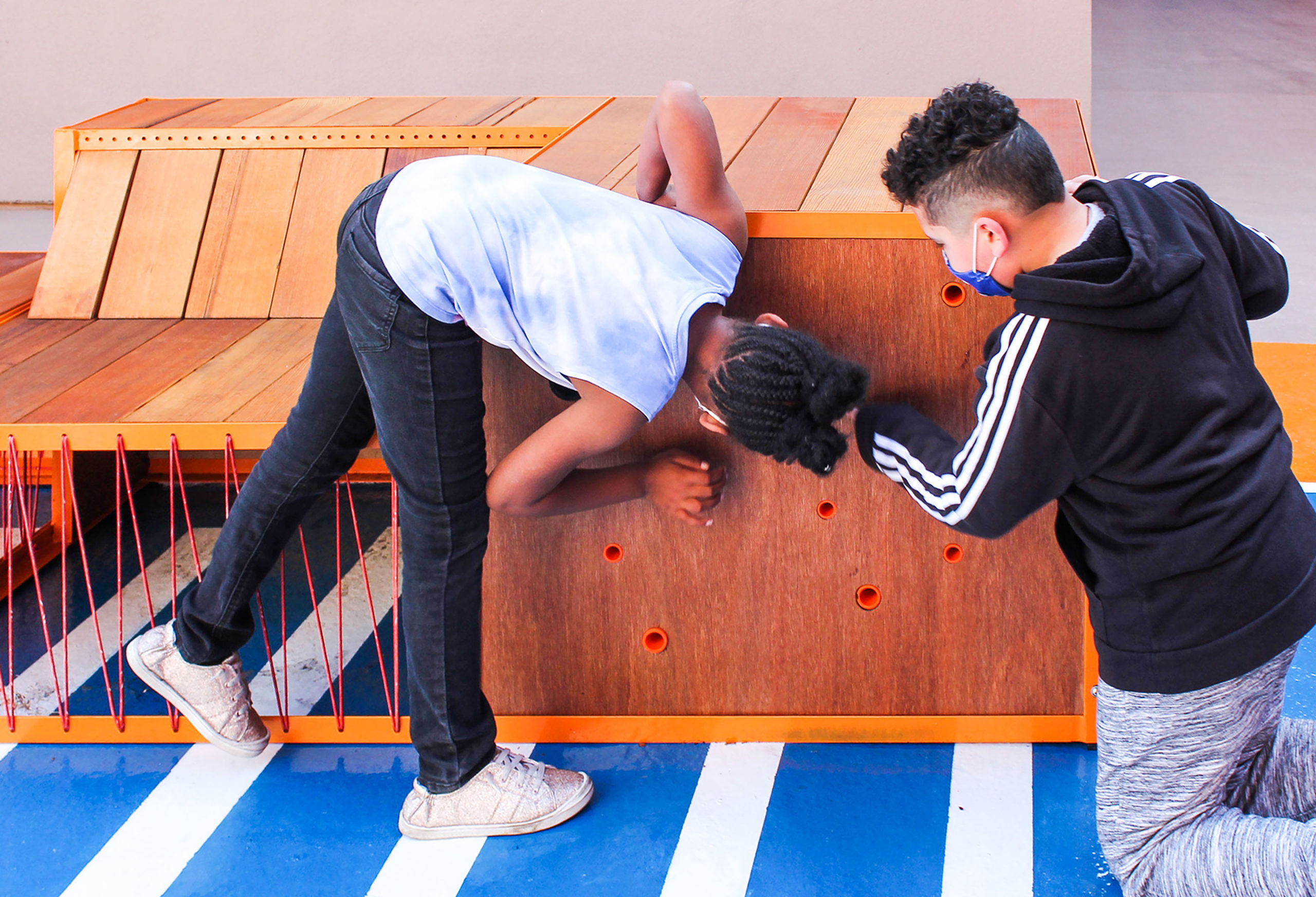 This is the second project by B.Lab in partnership with the Bayview Commons Community and San Francisco Housing Development Corporation in San Francisco (SFHDC). Through live and online workshops with the residents and children in the building, we designed and developed an outdoor furniture installation in an existing outdoor courtyard. Our research focused on the notion of play, and its role as a multigenerational driver of joy, exercise, and community. This research was strengthened through workshops with noted spatial activists and industrial designers from the Bay Area. The new installation creates a vibrant gathering and imagination space for all the residents of this diverse building, especially the twenty-nine children residing here. The design incorporates social distancing through graphics and furniture component design, and it is our hope that moving forward with this project will bring some relief and fun to the lives of local residents. Fabrication and installation occurred in late 2020.
The Bayview Commons Apartments is a diverse, affordable community in service since 2003, located in the Bayview-Hunters Point neighborhood of San Francisco. AIAS (American Institute of Architecture Students) participants designed and painted a mural in the courtyard in 2018. This project continues our long-standing relationships with the residents of the building and SFHDC. Our outreach consisted of live community meetings and a children's design workshop which we subsequently ran through individual sessions with many of the kids living in the building who were forced to shelter-in-place.
Through our outreach process, we learned that residents wanted an active, intergenerational, and flexible space that allowed for relaxation, interactive play, and community events. Our final design incorporates a set of flexible, movable furniture that can be set up in different configurations. Intergenerational play, lounging, and socializing are emphasized through the design of different panels on the modular pieces. The colorful groundscape is coded to give clues for spatial use and provide a vibrant surface that complements the colors of the wall mural.
Collaborators
Residents of the Bayview Commons Apartments
Rhonda Haley, SFHDC
Lisa Mendoza, Mission Housing
Academy of Art Team
Greg Grundstrom, Academic Shop Director
Gena Whitman, Architecture Shop Manager
Calvin Malone, Architecture Shop Technician
Max Niehaus, Industrial Design Shop Manager
Mimi Sullivan, Executive Director Emeritus, School of Architecture
Jennifer Asselstine, Undergraduate Director, School of Architecture
Doron Serban, Undergraduate Emerging Technology Coordinator, School of Architecture
Volunteers
Tammy Ho, Principal at Studio SideProject
Zoe Qiaoyu Zheng, Student at Academy of Art
Mai Ho-Nguyen, Student at Academy of Art
Dylan Ingle, Student at Academy of Art
Donors
Indiegogo Donors
Kelly Moore Paint
Poly Tuff USA