Outer Mission Ramp Library – a knowledge connector for rapidly changing communities
Master Thesis by: Yi Hsien Rachel Wang – M.Arch / Thesis Advisor: Mark Mueckenheim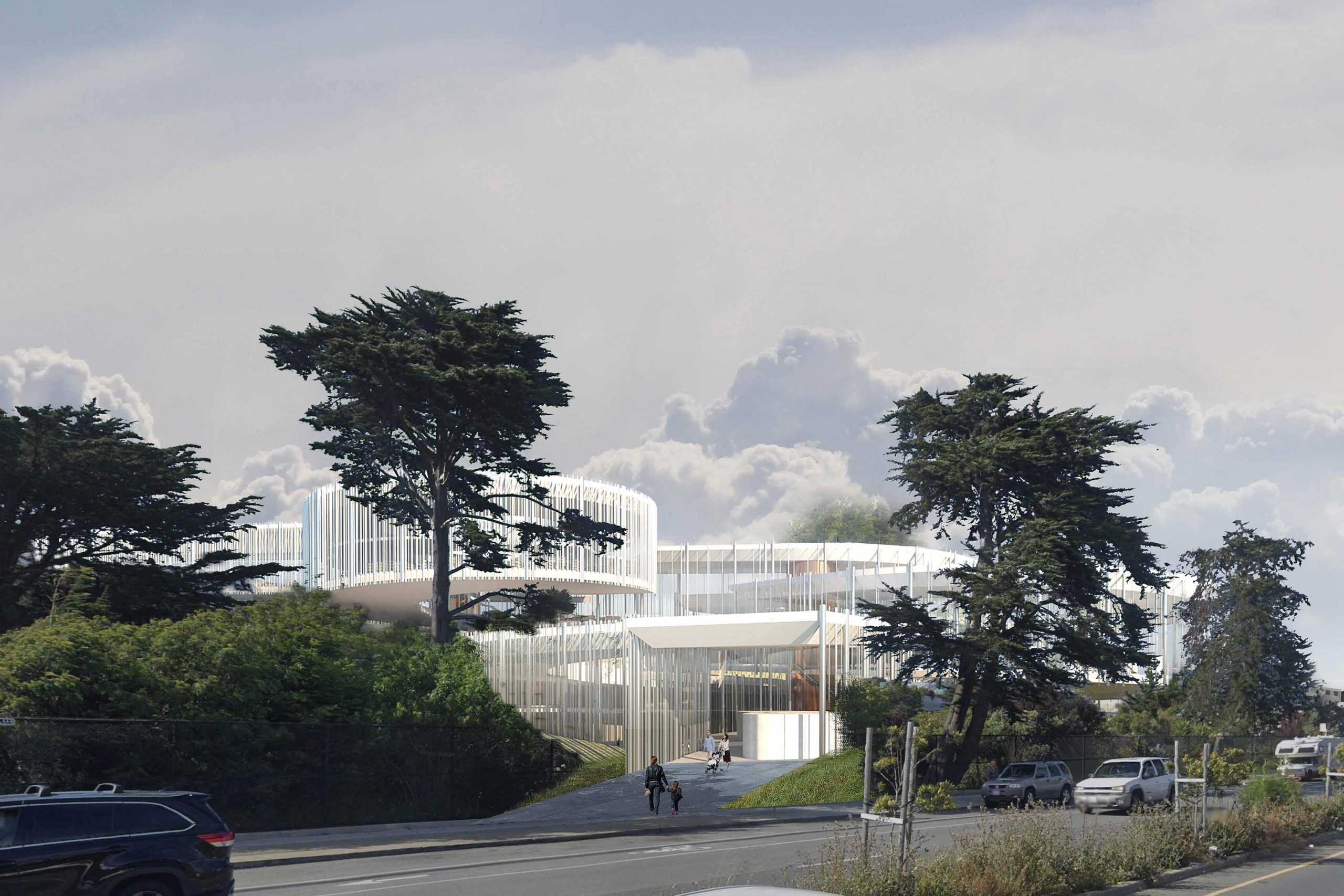 As the internet has become publicly available and entered mainstream social life, the nature and speed of learning continue to change. The typology of library buildings has evolved throughout history to reflect the change in information systems and learning activities. Naturally, the library is continuously transforming to echo the speed and environment of these contemporary developments. Current library design becomes insufficient to accommodate the new collections of various media and digital learning activities. Modern changes in living styles also require the library to implement different functions. The thesis project aims to provide an architectural solution that reflects and supports a twenty-first century's digital learning environment..
The main conceptual idea is to design the library as a continuous ramp, connecting diverse areas in the local city fabric. Located in the lesser-resourced south border of the city, the new "Outer Mission Ramp Library" has both social and environmental benefits. The architectural intervention shortens the neighborhood's physical and social distances by combining pedestrian bridges and casual, as well as formal learning spaces for people to re-educate themselves along their daily commute. The new library building allows people to reach the Oceanview neighborhood, Bart station, supermarkets, parks, and schools within a fifteen-minute walk, by connecting neighborhoods that were previously separated by Interstate 280 and Bart rail.
The thesis is projecting a new sustainable library typology as a prototype for a public learning infrastructure. The conceptual idea of the building can expand throughout San Francisco and other global cities in need of adaptive educational facilities for diverse user groups. The ramp connects all the learning zones into a whole. The uninterrupted open floor is designed for flexible program arrangements that may immediately adapt to future needs. Focusing on one learning type at a time, the linear library minimizes disturbance within each area. This learning infrastructure also functions as a public living room for residents to gather, work, exercise, and entertain. The project aims to be a Net Zero Energy Building. The library integrates key sustainability strategies, including harvesting renewable solar energy through photovoltaic shingles and adjusting the facade sunshade density to control heat gain, in conjunction with passive displacement ventilation and a geothermal heating and cooling system.