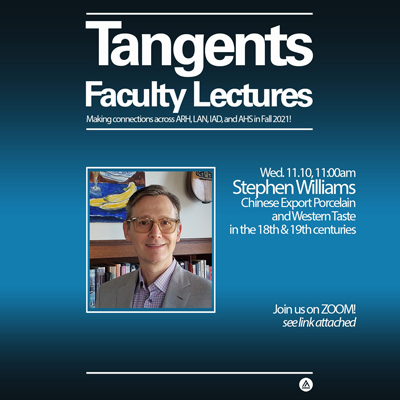 Stephen Williams
Art History and Liberal Arts
Chinese Export Porcelain and Western Taste in the 18th & 19th centuries
This talk will offer a look at the ways Europeans collected and were influenced by porcelains from China. Issues addressed will include porcelain manufacturing in Jingdezhen, the way Europeans in turn changed the ways they entertained and enjoyed their leisure time, as well as how these items influenced their understanding of Chinese style and culture. The talk will end on the eve of the Taiping Rebellion – which will interrupt production and export – as high Victorian taste took cues from elaborately decorated Famille Rose types of household porcelain.
When: Wednesday 10 November 2021, 11:00am (Pacific)
Where (Zoom): https://art.zoom.us/j/98399949893
The TANGENTS series features faculty from Architecture, Landscape Architecture, Interior Architecture & Design, and Art History, offering their diverse interests and passions to students in the form of brief and informal talks of about twenty minutes, before opening to questions. Utilizing the breadth of our faculty's experience, TANGENTS talks graze the edge of our curricula while enriching it. There will be six total talks this Fall from a range of faculty across the four departments. TANGENTS is hosted by Braden Engel, Architecture History + Theory Coordinator.