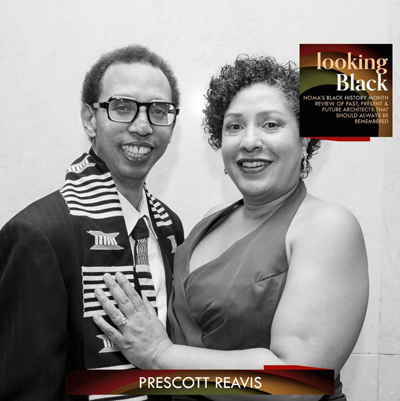 Honoring Prescott Reavis, NOMA, LEED AP, SEED, NCARB
With profound sadness, we share the news that Prescott Reavis passed away on Feb 8th. Prescott was a spatial activist, architect, educator, and an impactful friend and advisor to the School of Architecture. He had been a mentor to those of us who mentor, a teacher to those of us who teach, and a leader to all who hope to change the world. His influence on the curriculum of the School of Architecture was critical, particularly as we initiated the Participatory Design course in 2017, and later the B.Lab Design Build program in 2018, now known as Community-Based Design. He continued to inspire and advise faculty at the School of Architecture. He educated us about the urgency of including young people in the design process. He counseled us on the importance of building trust and investing in relationships within the community before initiating the design process. He gave us the tools to put these aspirations into action. Most recently, Prescott was on the Industry Advisory Board for the School of Architecture raising difficult but important questions.
Prescott led by example, focusing his work and professional career on the communities most in need. In April 2019, Prescott spoke directly to our students about his passion for empowering youth in the design process as a presenter in the Ethics and Leadership Panel titled "Youth Inclusion in Building Spaces," along with Emily Pilloton. He played a pivotal role in the Bay Area-based Pathways to Equity program led by Shalini Agrawal. This program reaches many educators and practitioners near and far, and has been a platform for Prescott to enlighten and hold accountable professionals to design the built environment in ways that prioritize equity.
Prescott held leadership roles and mentored with NOMASF, AIASF, and Youth Plan Learn Action Now! His practice, Kulima Design, was built around these principles and complemented his teaching at UC Berkeley, Cal Poly San Luis Obispo, Howard University, and California College of the Arts. One example of his passion for youth empowerment is NOMA's Project Pipeline. Prescott was a founding member and a tireless champion year after year. Prescott leaves a legacy of resilient spirit, fearless truth-telling, and untiring advocacy for youth, people, and the power of design.  When the nascent AAU NOMAS chapter was launching a mentorship program, Prescott generously gave his advice and time. He was a mentor to an online architecture student who was pursuing his dream of becoming an architect after 18 years of detours. Prescott spoke openly about the realities and obstacles for a Black male architect.
"We cultivate underserved communities and individuals to improve their built environment through areas of civic engagement, education, and co-designing programs and processes; to develop just, equitable, healthy, and joyful and culturally abundant places." – Kulima Design
Celebrating the Life of Prescott Reavis
From the National Organization of Minority Architects (NOMA)
Prescott had been a positive change-agent in NOMA and the greater architecture community for decades. Prescott was an Oakland-based Spatial Activist, architect, planner, and award-winning educator who has merged over 20 years of experience in architecture, planning, and education to develop and construct inclusive communities, focusing on equitable design and planning justice.
As one of the creators and Program Director of the NOMA Project Pipeline Architecture Summer Camp in the Bay Area, Prescott was passionate about architectural education and encouraged our young people to be design solutionists and spatial activists. He was a true champion for youth autonomy in design and an inspiring example of what a mentor can be within the architecture community. He was truly an individual who gave so much to those around him and had an immense impact on our members nationally, locally, and our community.
Prescott was the Founder and Director of Kulima, an Oakland-based community design, planning, + educational practice empowering everyday citizens of all ages to use their collective knowledge and voices to shape the physical environment to their visions by engaging them in their spaces. Kulima implemented a two-way education process to understand the root problems, co-creating inclusive solutions through participatory planning and design. Kulima worked to develop the next generation of youth spatial activists through customized community planning, architecture, and design programs in collaboration with nonprofits, community based organizations, governmental agencies, and schools throughout the U.S.
Prescott's previous experiences include serving as The Director of Community Planning and Project Manager for the nonprofit AND Architecture + Community Planning (AND A+CP), in San Francisco, where he provided community engagement, planning, design services, and advocacy for non-profits, small business, and community based organizations. Prescott's completed projects include the design for Urban Ed Academy headquarters, SOMA Asset Mapping Youth and Family Zone, several Community Clinics for San Francisco Department of Public Health, and The Hunters Point Community Youth Park: Youth Master Plan. Before AND A+CP Mr. Reavis was an associate and director of student internships for the internationally acclaimed design firm Ashen+Allen now known as Stantec where he focused on Healthcare and Academic projects for 13 years; his completed projects include buildings for UC Berkeley, UC Santa Cruz, University of Missouri and Santa Clara County Medical Facilities.
He was a great inspiration to all of us. He will truly be missed and his legacy will live on.
Rest in Power Prescott.
Thank You,
SFNOMA