ARH 650: Introductory Design Studio I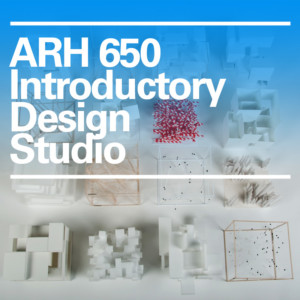 Faculty: Yim Lim Jew / Alberto Bertoli / Vasilena Vassilev / Stephanie Davidson / Mark Myers
Course Description
This course covers the fundamentals of composition and organization found in architecture. This course also provides an introduction to a range of drawings, diagrams and simple modeling techniques. Students learn the interrelationships of program, geometry, composition and narrative that are used in the architectural design process.
Course Learning Outcomes
As a result of successfully completing this course, students…
Will be able to:

Observe and collect architectural information for the assigned projects and sketching assignments

Identify and illustrate basic elements of composition, order and form through drawing presentation.

Clearly identify and illustrate and exhibit comprehension of architectural ordering principles through two-dimensional diagram drawings.

Identify and illustrate architectural elements and the related form, space and order defining them.

Research, analyze and interpret the work of historically significant architects using academically appropriate primary and secondary sources

Work in collaborative teams of peers

Describe a simple design proposal using site plan, plan, section and elevations.