ARH 650: Introductory Design Studio I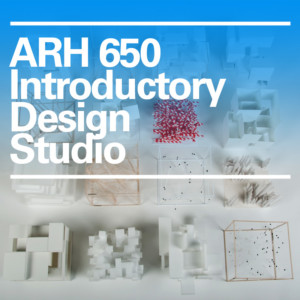 Faculty: Yim Lim Jew / Alberto Bertoli / Vasilena Vassilev / Aja Jeanty / Stephanie Davidson / Mark Myers
Course Description
Learn the principal concepts of architecture in this foundational design studio. Engage in the iterative design process, where you will achieve conceptual and spatial ideas through deliberate experimentation. You will be covering a range of architectural projects increasing in scale and complexity throughout the semester. You will learn to apply "operative terms" as a decisive vocabulary in solving recursive design exercises. Investigate prominent architectural works and case studies which will introduce you to critical architectural thought and modes of analysis. Examine these projects inclusive of culture and context to understand concept, composition, geometry, order, narrative, materiality, and tectonics. Explore methods and ideas of representation and learn how to build your design projects on diagramming, sketching, model-making, and generative drawing. Set the foundation for your future studies and practice in architecture with concepts and skills in written, spoken, and visual form.
Course Learning Outcomes
As a result of successfully completing this course, students…
Will be able to:

Observe and collect architectural information for the assigned projects and sketching assignments

Identify and illustrate basic elements of composition, order and form through drawing presentation.

Clearly identify and illustrate and exhibit comprehension of architectural ordering principles through two-dimensional diagram drawings.

Identify and illustrate architectural elements and the related form, space and order defining them.

Research, analyze and interpret the work of historically significant architects using academically appropriate primary and secondary sources

Work in collaborative teams of peers

Describe a simple design proposal using site plan, plan, section and elevations.