ARH 620 Digitally Generated Morphology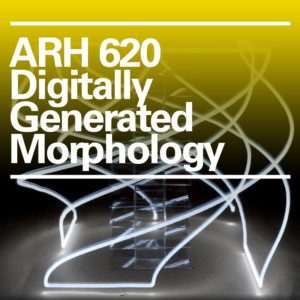 Faculty: Peter Suen / David Campbell / Benjamin Rice
Course Description
In this class, students will learn the essential skills and software necessary to visualize, generate, and design an architectural proposal using 3D modeling software. Through in-class tutorials, group/ individual critiques, and selected readings, students will learn how to use the computer as a generative design tool and not purely for representation.
Course Learning Outcome
As a result of successfully completing this course, students…
Will be able to:

Incorporate advanced 3D modeling techniques as tools for design and representation.

Perform a range of 3D modeling operations utilizing splines, primitives, polygons, modifiers, lofts, meshes and nurbs.

Competently animate and render in 3D modeling software.

Undertake basic scripting in 3D modeling software.