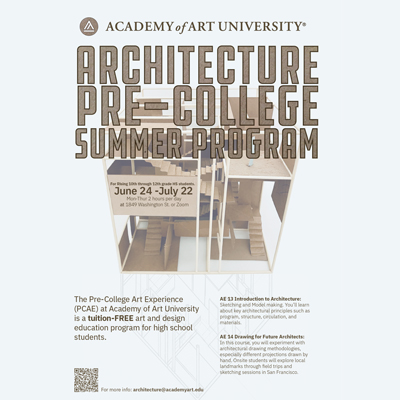 Pre-College Summer Program in Architecture
The Pre-College Art Experience (PCAE) at Academy of Art University is a tuition-FREE art and design education program for high school students.
It's a great opportunity to jump-start your art and design education while earning money toward your college degree. You can take the pre-college program on our campus in San Francisco or online year-round.
Explore your future, gain confidence in your creative abilities, and have the time of your life as an art and design student at Academy of Art University.
This program is not for college credit. It is a great way to build your portfolio to apply as an architecture major.
Cost: Free
Dates: 6/24/2023 through 7/22/2023 (Mon-Thu, 2 hours each day)
Location: 1849 Washington St OR on Zoom
Eligibility: Rising 10th grade through Rising 12th grade High School students
FAQ: https://www.academyart.edu/art-degree/pre-college-art-experience/faq/
Contact: architecture@academyart.edu
Courses
AE 13 Introduction to Architecture and AE 14 Drawing for Future Architects must be taken together.
AE 13 Introduction to Architecture: This course offers an introduction to architecture and environment design through the exploration of urban buildings and interiors. Through sketching and model making, you'll learn about key architectural principles such as program, structure, circulation, and materials.
AE 14 Drawing for Future Architects: In this course, you will experiment with architectural drawing methodologies, especially different projections drawn by hand. Each session will be dedicated to quick freehand perspective sketches and more sustained drawings of assigned spaces. Onsite students will explore local landmarks through field trips and sketching sessions in San Francisco.