NCARB Licensing Adviser
Licensing is the culmination of your education and gives you the right to call yourself an architect and practice in the United States. Licensing consists of an education requirement, experience working and a set of exams. It's a long but worthwhile process and it's important to get started on it early! In California, you can begin the process while you're in school and start gaining and reporting hours.
Read more below on why you need a license, and how to get started.
Why get licensed as an Architect?
Call yourself an "Architect." You can't do this without a license.
A strong, professional credential
Make your years of education count
Run your own firm
What is the path to becoming licensed?
Be part of the small number of licensed architects and help to make the profession reflect the community we live in and promote diversity!
How do I become licensed?
The road to becoming an architect is less complicated than you might think. Before you can call yourself an architect, you'll need to earn a license in the state you're in. Each of the  U.S. licensing boards sets requirements for licensure in their jurisdiction, but they all include three core components. You can begin the experience portion while in school and get started early. There are also multiple paths to licensure for foreign students.
Education (in CA: BARCH, MARCH, BA in Architecture)
Experience (in CA:begin anytime after high school graduation)
Examination (in CA: after degree is completed)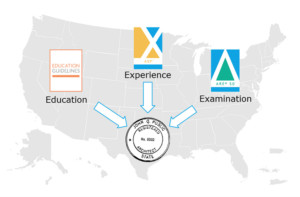 How do I start?
o   https://www.ncarb.org/get-licensed/licensure-basics
Create an NCARB record:
Go to org
Click Establish Record
Create and verify the account.
Cost: $100 initial fee for a new record, $85 per year renewal
How can I get info on the path to Licensure while at AAU?
Attend a once a semester presentation on the basics
Participate in the AAU chapter of  AIAS (American Institute of Architect Students
Reach out to your licensing advisor for questions aausameena@gmail.com
Watch this video on the basics:
And for more info:
See who's getting licensed and how long it takes on average:
Architect Handbook
The California Architect's Board has issued a handbook that explains how to become an Architect in California. This is a great resource for those who intend to become licensed in California only and is a companion to the NCARB guidelines.
Helpful Documents: