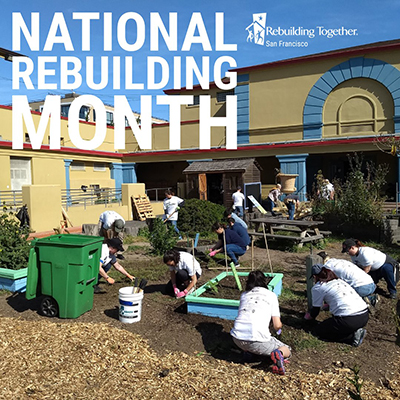 Rebuilding Together SF Seeking Volunteers
Help upgrade San Francisco's Early Childhood community! Skilled and general volunteers are welcome. The projects will be outside and social distancing protocols will be maintained.
Volunteer on Saturday October 2nd 8:30am – 4:30 pm 
Rebuilding Together San Francisco has partnered with Low Income Investment Fund to promote connecting children with nature through five outdoor projects. We are looking for carpenters, skilled, and general handy volunteers to complete these outdoor play spaces. Here's a preview of the projects below: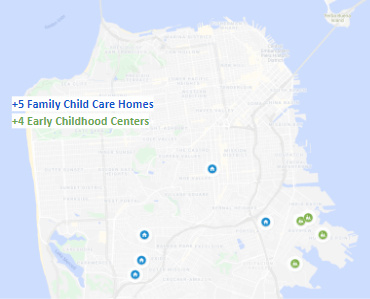 Our Mission
Repairing homes, revitalizing communities, rebuilding lives.
Our Vision
Safe homes and communities for everyone.
About Us
Founded in 1989 in response to the Loma Prieta earthquake, we've worked in partnership to preserve affordable housing in San Francisco addressing home safety repairs, deferred maintenance, and code violations. We have served over 4,000 low-income families and worked with over 300 community spaces in San Francisco. As a result of our work, RTSF stabilizes residents and prevents displacement of San Francisco's most vulnerable populations. We are committed to help our communities rebuild through Community Revitalization.
Our Work
PRESERVES affordable housing and stability for underserved and high-risk communities
INCREASES the mobility, safety, and independence of seniors and neighbors with disabilities
BUILDS home and wealth equity and long-term security for low-income families
REDUCES isolation and risk with disaster preparedness and wellness calls
RTSF is a local affiliate of Rebuilding Together, a national organization that includes 130 affiliates serving communities nationwide, and mobilizes thousands of volunteers each year. For a copy of our audited financials, annual report, or IRS 990, contact Mahogany Roland, Executive Director, at  mahogany@rtsf.org.