ARH 604: Materials and Methods of Construction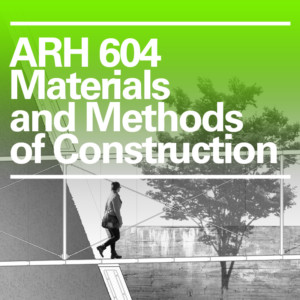 Faculty: David Gill / Paul Rivers
Course Description
Gain a high level of competence in the technical and tactile aspects of architectural design by developing a sophisticated wall section. You will design key details, which provide a significant portion of a completed documentation for a building design.
Course Learning Outcomes
Students will be able to:

Draw and build a model of a wall section showing the following components: building structure, HVAC, roof drainage, and wall structure.
Visually describe by drawing and notation, details of the enclosure systems, door and window systems.
Present work in a comprehensive way, describing the structural and waterproofing system of the wall section from the top of the wall to the foundation.
Find and evaluate research on integrating approaches of building materials and component, with an awareness of the whole building system.
Use a cyclical design approach to defining building details within a framework of an overall building envelope.