FA 2020 Ethics and Leadership Panel
Inclusive Design
Thursday November 19
12:00noon – 1:30pm PST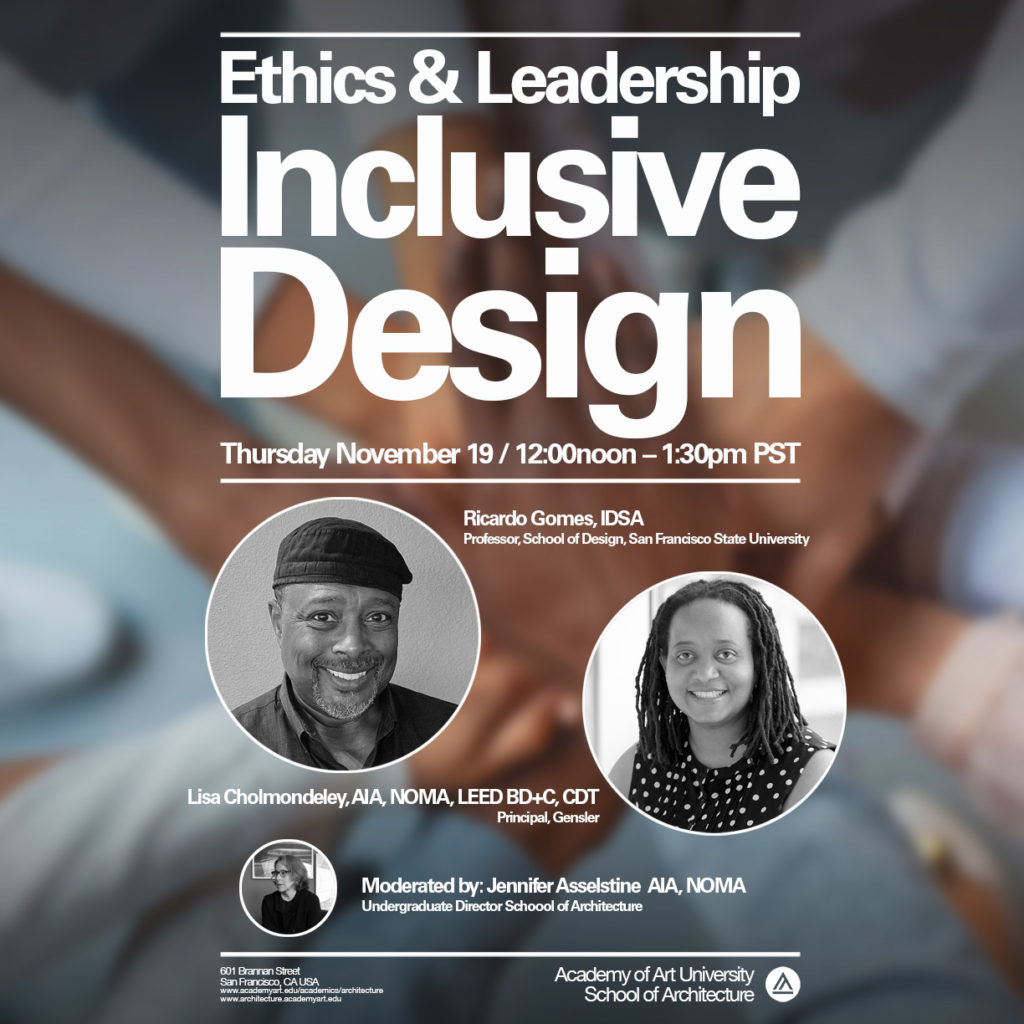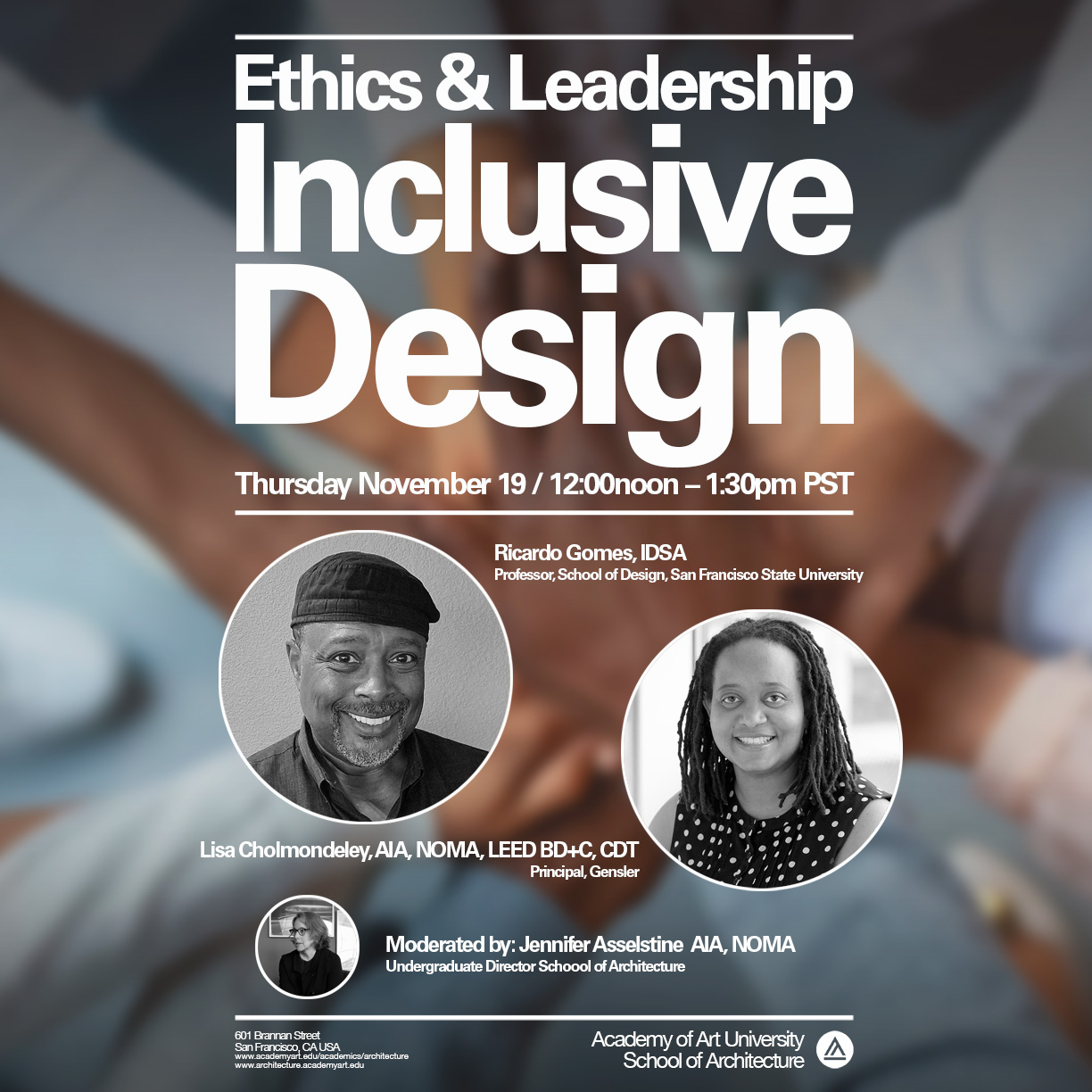 Ricardo Gomes, IDSA
Professor, School of Design, San Francisco State University
Professor Ricardo Gomes has been a faculty member in the School of Design at San Francisco State University for over 29 years. He was the Chair of the DAI Department from 2002-2012.
Professor Gomes is the coordinator of the Design Center for Global Needs & the Nathan Shapira Design Archive in the School of Design. Member of the Board of Directors of the Institute for Human Centered Design, Boston & the Industrial Designers Society of America.
Prof. Gomes received his MFA in Industrial Design for Low-Income Economies from the University of California, Los Angeles (Design of a Container System for Mobile Health Care Delivery in East Africa). He received an M.A. in Architectural Building Technology from School of Architecture and Urban Planning at UCLA (Analysis of Alternative Building Materials and Construction Systems for Small-scale Industries in the Cape Verde Islands, West Africa); and a BFA in Industrial Design from Massachusetts College of Art (Design of an Adaptive Structural Environment for Severely Disabled and Developmentally Challenged Children). He was a Fulbright Scholar in Nairobi, Kenya and program coordinator of Design Projects in Developing Countries at Les Ateliers, Ecole Nationale Supérieure Création Industrielle in Paris, France. Professor Gomes has lectured extensively and conducted workshops at universities throughout Africa, Asia, Europe, Latin America and the United States. In addition, he has served on juries related to Inclusive Design; Universal Design; Design for Social Responsibility; Sustainability; and Equity for BIPoC in the Built Environment.
Lisa Cholmondeley, AIA, NOMA, LEED BD+C, CDT
Principal, Gensler
I'm motivated by understanding what connects people in the built environment. There is an invisible bond between who we are, how we occupy space, and what space looks like. I've been grateful to have had the opportunity to work across four continents with diverse project teams. Diversity in people, culture, and places serve as reminders that we always have new ways to experience the world.
I began my architectural career at Cornell University. After graduating, I worked in Washington, D.C then had incredible teaching opportunities in Knoxville and Washington DC. Following graduate School in London at the Architectural Association, I spent several years at a variety of firms across London before joining Gensler in 2008. While at Gensler I participated in a research program where I was able to work on an education project with our office in Sao Paulo. Previous to transferring to our San Francisco office, I was part of the Gensler team that delivered a 6 million square foot portion of a large mixed use development (Hospitality, Office, Retail, and Residential) in Qatar. I have delivered projects in the US, the UK, the Middle East, and Africa. I've spent almost half of my career working on interiors, but most recently have been focused on large scale, mixed-use commercial projects in the Bay Area.
I believe the most powerful way to connect with people is by breaking bread. I am an avid traveler, and I always find myself joyfully inspired when I am outside of my comfort zone, exploring new cultures and places, forcing myself to navigate my surrounding in different ways.
Moderator:
Jennifer Asselstine, AIA, NOMA
Undergraduate Director, School of Architecture
Jennifer Asselstine is the Undergraduate Director of the School of Architecture at the Academy of Art University since 2012 and has 35 years of experience in architecture and design. She earned her Bachelor of Architecture degree from University of Minnesota, where she received an award from the American Institute of Architects.  She studied at London's Architectural Association and worked in the U.S., London, Kuala Lumpur and Sydney. She has lead award winning teams in the Design Build Studio and teaches Sustainability and Building Systems, as well as First Year Studio. In her tenure as Director, Jennifer Asselstine has promoted the development of a B.Arch and B.A.degree programs that value diversity, empathy, collaboration and community-driven design.