Construction Site Visits
A visit to a construction site is an important part of an architectural education. Below are some opportunities coming up this semester. Space is limited so spots will fill on a first-come-first-serve basis. Please check back for dates and times. Sign-ups will be made available as dates are confirmed.
Construction site visits are open to all onsite and online students. Students must check out PPE kits from the ARH shop at 601 Brannan. PPE kits consist of hard hats, safety glasses, vests, and gloves. Please return all equipment to the shop after the visit.
Contractors take safety very seriously on construction sites to comply with safety code requirements. You MUST wear work boots. Sneakers are not allowed. Without proper footwear, you may be turned away by the contractor, or worse, the entire group will be given an abbreviated tour because one student did not wear appropriate shoes.
Please refer to this image to get a sense of acceptable shoes for construction sites. If you do not have steel toe work boots, you can substitute with Dr Martens, Timberlands, or hiking boots. We recommend investing in a pair of boots as you will need them later when you are working in an architecture office!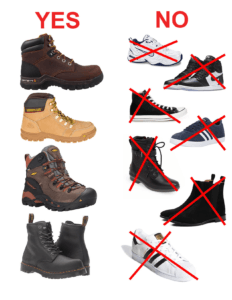 Upcoming Construction Site Visits
10/17 Tue 3pm
Helen Diller Student Housing at UC Berkeley designed by Morris Adjmi Architects
Faculty Chaperone: Sameena Sitabkhan
SIGN UP AT THIS LINK for HELEN DILLER
10/25 Wed 3pm (FULL)
UCSF Medical and Parking at Mission Bay Block 34 by Stantec
Faculty Chaperone: Doron Serban
DATE CHANGE – NEW DATE TBD
The Black Panther – 100% Affordable Housing in Oakland (7th and Campbell St) designed by Michael Willis Architects
SIGN UP AT THIS LINK for BLACK PANTHER
TBC
Emerald High School in Dublin – new campus with multiple buildings