For our faculty, we are sharing the institutional knowledge gathered since 2017 on making the most out of Concept Board.
For a video tutorial please see this Zoom recording of a tutorial session by Karen on 2020-09-11
Concept Board Templates
Concept Board Templates are useful to quickly set up the virtual room for desk crits or reviews. Please browse templates available and adapt them for your students. The sample template boards are in the PROJECT called "Template Boards." If you have not yet been invited to this PROJECT, please email Karen at kseong@academyart.edu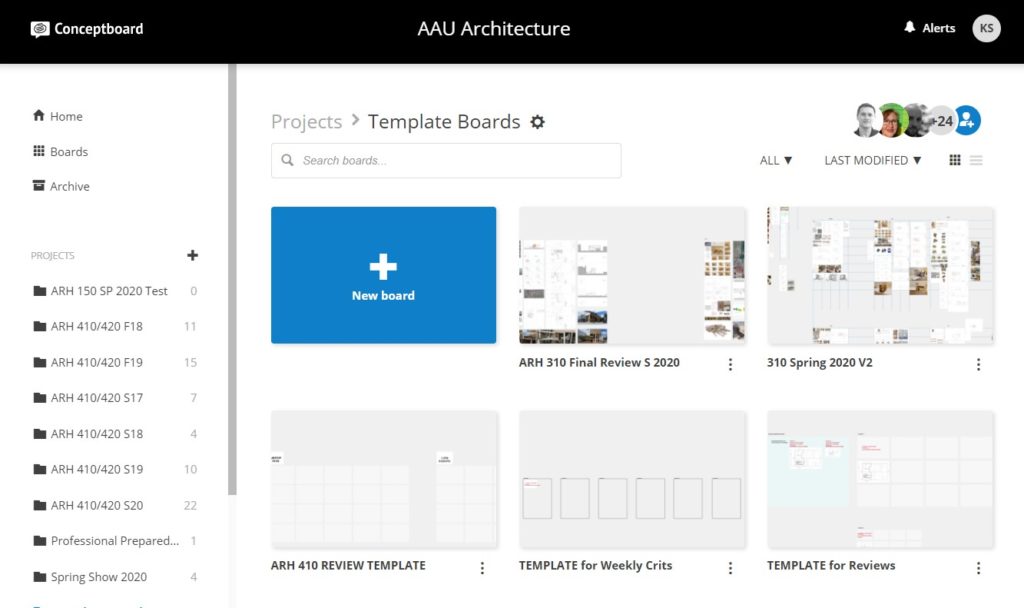 Using PROJECTS to Organize Multiple Boards
It is advisable to limit the total MB of images and drawings in any one Concept Board. This will help the board to load faster and maintain a more stable connection especially for the students who lack access to robust internet connections. To do so, first create a PROJECT for your course and invite the students to it. This will be your virtual class room. Then create BOARDS within the PROJECT – as many as you need. All students already invited to the PROJECT will automatically have access to any new BOARDS created within the PROJECT. In the example shown, within the PROJECT called ARH 410/420 S20, there are 22 separate boards.
You can think of PROJECTS as your Classroom and the BOARDS as different pin-up walls within that Classroom.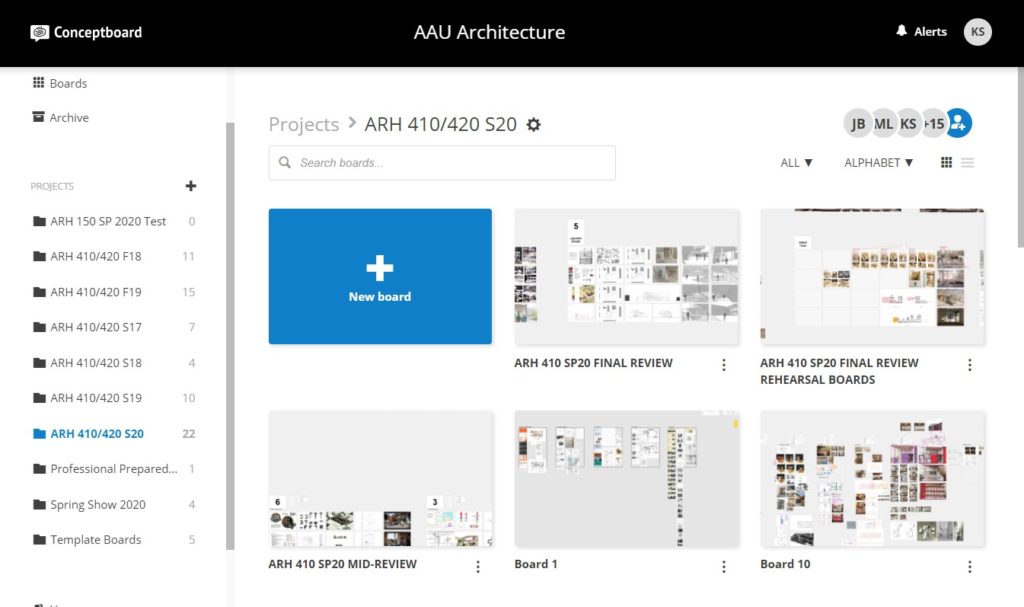 File Sizes and Sheet Sizes
Too many large files uploaded to Concept Board will make it sluggish. You can avoid this by asking students to upload only medium or low resolution (150 dpi max) JPG and PDF files. PDF files should also be flattened (in some cases doing so will reduce the file size by 1/10). Photographs captured on smart phones tend to result in files as large as 8 MB per image. Students should try to lower the file size when possible.
Please keep in mind that while Concept Board is a "scale-less" environment, there is some limitation to scale due to the fact that the largest font size available is 120 pt. This font size is quite small when using the standard architectural sheet sizes (24 in X 36 in or 36 in X 48 in). If appropriate, ask students to use 11 in X 17 in sheet sizes instead.