In regards to the 2020 Commencement we like to share this Letter of our Chief Academic Officer Sue Rowley that went out to all 2019 and 2020 graduating students: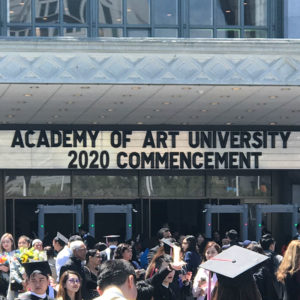 To the recent graduates and their families of the Academy of Art University,
It is with regret that I must announce that in-person commencement ceremonies for the graduating classes of 2019 and 2020 will be held virtually. Despite our efforts to mitigate the risks, Governor Newsom has issue the Stay-Safer-At-Home Order C19-07f, which prohibits us from holding an in-person graduation ceremony at Bill Graham Civic Auditorium in San Francisco, CA (California Health and Safety Code § 120295, et seq.; California Penal Code §§ 69, 148(a)(1); and San Francisco Administrative Code § 7.17(b)).
While we are disappointed that unusual circumstances will prevent us from holding an in-person graduation ceremony, we are planning to celebrate virtually to honor our new graduates. We believe it is important to recognize the hard work and dedication of our students, and are therefore, in the process of finalizing plans for a virtual ceremony. Additional information will be forthcoming in the next few weeks, including an opportunity for all graduates to submit a photo as a part of the student recognition tradition.
On behalf of the Academy of Art University community, I want you to know that we are looking forward to honoring and celebrating your accomplishments.
Sincerely,
Sue Rowley
Chief Academic Officer