Integrated Path to Architectural License
IPAL (Integrated Path to Architectural License) is an alternate path to licensure intended to shorten the amount of time needed to fulfill the licensure requirements. As of 2022, IPAL is accepted in about 30 states in the US. As a first step, please research whether the state in which you plan to be licensed accepts the IPAL path. Use the interactive map on the NCARB website.
https://www.ncarb.org/get-licensed/licensing-requirements-tool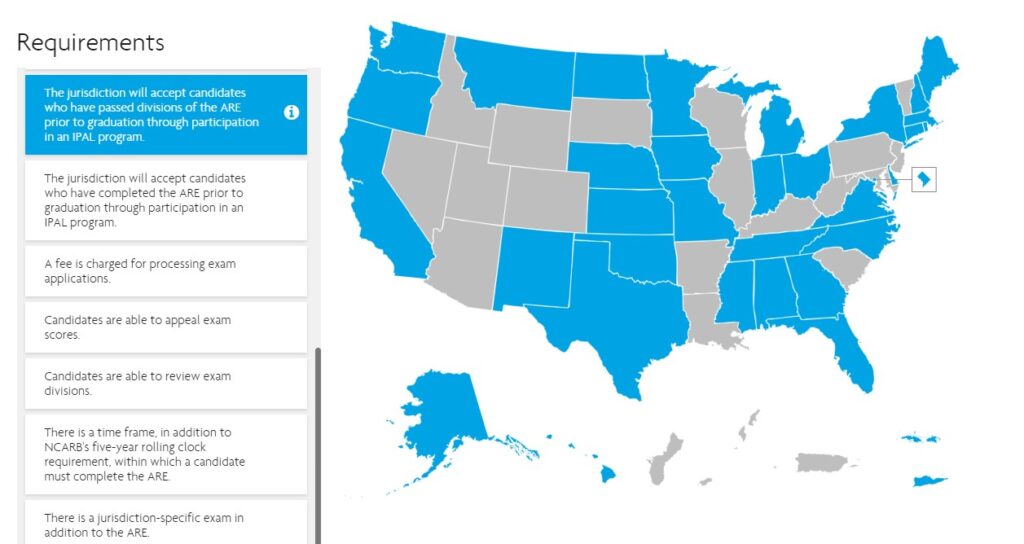 The School of Architecture has been approved to offer the IPAL path starting in the Fall 2022 semester.
Due to the compressed schedule, this alternate path will require a high degree of commitment. B Arch IPAL degrees typically take six years compared to the five-year B Arch. The extra year is to allow students to accrue roughly 2.5 years of work experience while taking courses and taking the licensure exams. Interested students must submit an application and interview with the department director and IPAL advisor to be accepted into the program.
This is a draft IPAL B Arch degree plan. A formal application process will launch in the Fall 2022 semester. B. Arch students must take LA 485 Tell Your Story: Personal Statement, Portfolio, Resume to be eligible for the IPAL program.
More information on IPAL:
https://www.ncarb.org/earn-a-degree/ipal
https://www.ncarb.org/become-architect/ipal/students/ipal-faqs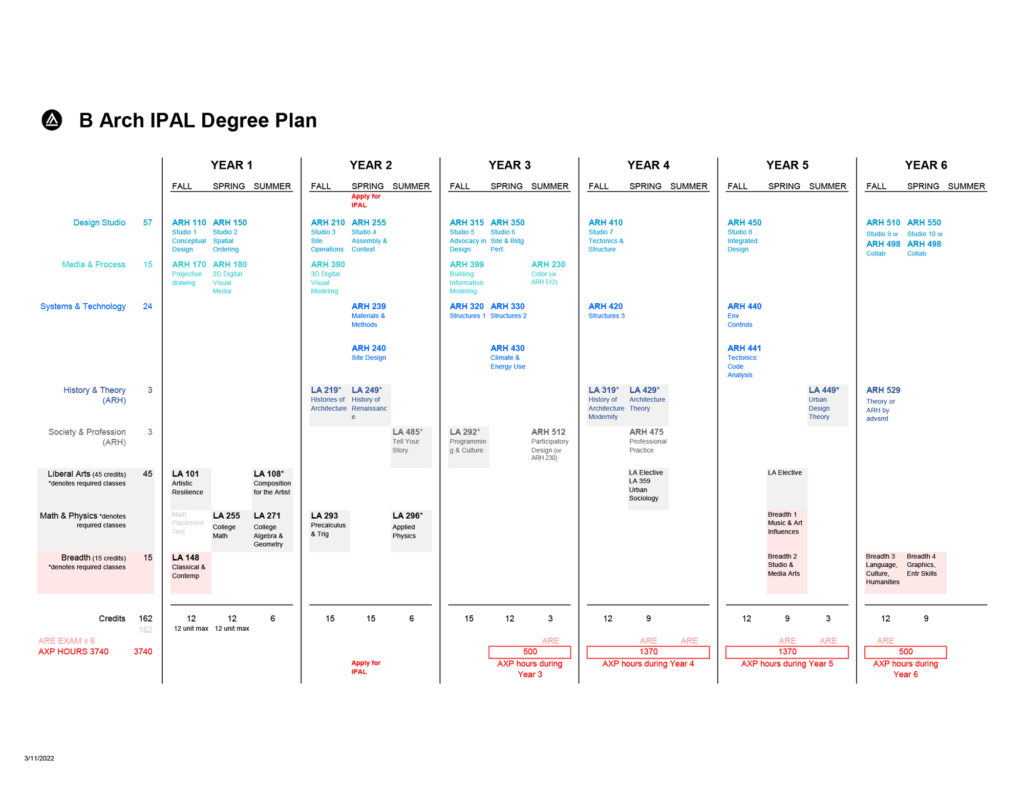 This is a draft IPAL M Arch degree plan.

Work Experience Hours
AXP (Architectural Experience Program) is a formal process that candidates must follow to log work experience hours accrued. AXP completion rate will depend on individual student circumstance. For more information on AXP, please see the Architectural Licensing Advisor page.
AXP Hours during Years 3 and 6:
500 hours completed over 33 weeks at an average of 15 hr/wk
In an example scenario, a 3rd year student could accrue 15 AXP hours per week during spring and summer
AXP Hours during Years 4 and 5:
1370 hours completed over 48 weeks at an average of 28 hr/wk
In an example scenario, a 4th year student could accrue 28 AXP hours per week during fall, spring, summer
(48-week-year assumes 2 weeks of vacation and 2 weeks of sick time per year)
Important Notes
Students must apply for and be accepted into the IPAL program
Department Director will create an individualized degree plan for each IPAL candidate
IPAL advisor will track student progress
Students in the IPAL program are eligible to take ARE exams
Students must accrue AXP hours to be in the IPAL program
CSE (California Supplemental Exam) must be taken after completing the BArch degree and AXP hours