ARH 614 Architectural Professional Practices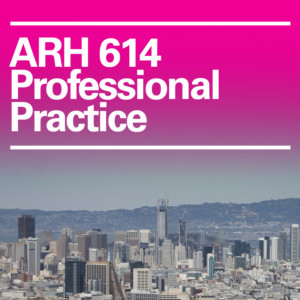 Faculty: Elizabeth Tippin, Gloria Jew
Course Description
This course exposes you to the business of conducting an architectural practice. You will gain an understanding of the organization of professional architectural firms, including methods of project management, contracts, compensation, professional ethics, insurance, and relationships with consultants and contractors.
Course Learning Outcome
As a result of successfully completing this course, students…
Will be able to:

Prepare projects and discussion participation that reflects an understanding of legal and ethical issues including the Architecture Practice Act, AIA code of ethics, and dispute resolution methodologies.

Evaluate disciplinary actions against architects and judge appropriateness.

Apply the concept of professional liability, errors and omissions, and develop an expert's opinion.

Research an architectural firm and develop and tailor professional application materials

Apply an understanding of practice management and leadership to preparation of a partnership agreement, strategic business plan, including human resources and finance, and marketing materials.

Develop a response to a Request for Proposal that demonstrates a comprehensive understanding of contracts, project delivery methods, compensation alternatives, project management and community/social responsibility.