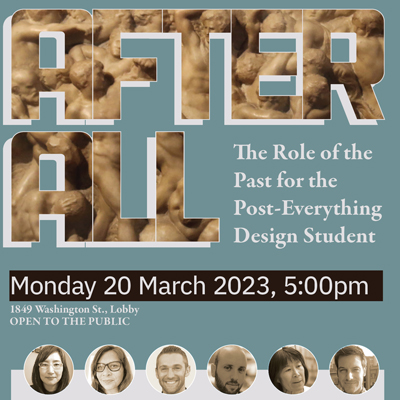 After All: Discussion Panel and Book Launch
Moderated by Braden Engel, History Theory Coordinator, School of Architecture.
Signed copies of Braden's book "Colin Rowe's Gospel of Modern Architecture" will be available at the event.
Monday, March 20, 2023, 5:00 pm
Free and open to the public!
Please register at this link https://www.eventbrite.com/e/after-all-discussion-panel-and-book-launch-tickets-571088439897
1849 Washington, San Francisco, CA (Main Lobby)
AND via Zoom: https://art.zoom.us/j/2020447532
Meeting ID: 202 044 7532, One tap mobile: +16699006833, 2020447532# US (San Jose), +17193594580, 2020447532# US
Unlike their teachers, incoming university students did not live through the events of 9-11 nor have they known a time without smartphones. Tech savvy and information spoiled, they are simultaneously subject to soaring levels of emotional stress and deceptive misinformation. Truth is both readily accessible and desperately needed. Architectural education, founded on values of rigor, studio culture, manual craft, and group critique, has already seen drastic shifts in the creative imagination of students in the wake of the global pandemic, political chaos, energy crises, and racial injustice. After all the turmoil young adults have experienced in the last decade, a lack of interest in the value of historical studies should not be surprising. Yet the seeds for innovative design can be found in the fertile soil of the past. Indeed, Colin Rowe – once referred to as the most influential architecture teacher of the second half of the twentieth century – saw no other way for design to invent than to "invade" the past. 2023 marks fifty years since Rowe's influential (and mischievous) pair of "Neo-'Classicism' and Modern Architecture" essays, and this panel discussion serves to jointly address the role of precedents and the past in architectural design education today while launching the paperback edition of Colin Rowe's Gospel of Modern Architecture (2022) by the School of Architecture's History & Theory Coordinator, Braden Engel. Academy of Art University faculty will address different themes from the book and students will be tasked with posing questions and sharing insights from their perspectives.