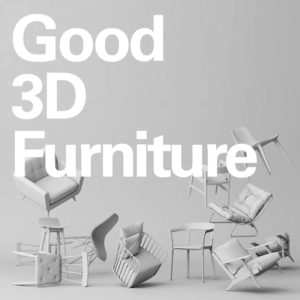 3D Furniture:
A great way to enhance your final renderings and add detail to your final 3D model is the use of 3D furniture. When doing so, you don't want to use any furniture from googles 3D warehouse or other free websites, but good high-quality furniture from brands that produce furniture for use in public buildings. As an aspiring architect you should be familiar with these kinds of brands. We are professionals so we use proper and professional furniture. Using furniture in your 3D model will also save you time in comparison to photoshopping furniture. Post-production furniture in Photoshop will often not fit the perspective of your rendering and will look awkward (while this can still be a desired effect for more hap-hazard style collages).
One of the bigger 3D collections is the one by US furniture manufacturer Herman Miller who are best known for holding the rights to manufacture Eames furniture.
https://www.hermanmiller.com/resources/3d-models-and-planning-tools/product-models/
A relatively young furniture manufacturer with excellent timeless and minimal furniture is the danish company Hay, which was recently bought by Hermann Miller, not all their furniture is available on the Hemann Miller webpage their 3D and 2D furniture can be downloaded here:
https://hay.presscloud.com/digitalshowroom/#/gallery/3d-and-2d-files
Vitra is a Swiss furniture manufacturer and known in architectural circles through their Vitra campus (in Weil am Rhein Germany at the Swiss border close to Basel) with a collection of buildings by international star archietcts. They also produce Eames furniture designs for the European market (licensed by Hermann Miller) their other furniture however is very nice too. There also have shop and retail systems and standardized office furniture systems. The downloads of 3D models (and 2D CAD blocks) is a bit more hidden then on the other manufacturer's websites – you have to click on a product, scroll down to the "information" area of the specific product and there you can find a tab that says "CAD Data":
https://www.vitra.com/en-de/living/product
Fritz Hansen is most known for producing the furniture designs of famed Danish architecture and design icon Arne Jacobsen among others, they also have an extensive 3D library:
https://downloads.fritzhansen.com/asset-bank/action/browseItems?categoryId=126&categoryTypeId=1
Karimoku Case Study – is conceived by Japan's largest wooden furniture manufacturer, Karimoku their timeless and minimal wood furniture is absolutly great and here is their 3D library:
https://www.karimoku-casestudy.com/downloads/
Knoll, Inc. is an American design firm that produces office systems and exquisite furniture by famous designers and architects. Ludwig Mies van der Rohe, Harry Bertoia, Florence Knoll (Florence Schust), Frank Gehry, Charles Gwathmey, Maya Lin and Eero Saarinen but also contemporaries like David Adjaye. A lot of their pieces are famous and timeless icons. Here are their 3D libraries:
https://www.knoll.com/design-plan/resources/furniture-symbols/showcase-symbols
https://www.knoll.com/design-plan/resources/furniture-symbols
Magis SpA is an Italian company founded in Motta di Livenza in 1976 and specialized in furniture and design. Through collaborations with the likes of Richard Sapper,[1] Marc Berthier, Toshiyuki Kita, Jasper Morrison, Ron Arad, Zaha Hadid, Konstantin Grcic, Ronan & Erwan Bouroullec, Naoto Fukasawa, Philippe Starck, Marc Newson, Stefano Giovannoni, Pierre Paulin, Magis has succeeded in establishing itself as an innovative company on the design scene.
https://www.magisdesign.com/download-type/images-3d-files/
Cassina S.p. A. is an Italian manufacturing company specialised in the creation of high-end designer furniture. Cassina is the exclusive worldwide licensee of furniture designs by Le Corbusier. Cassina also has the reproduction rights to some of the Bauhaus objects, designs of Gerrit Rietveld, Frank Lloyd Wright, and Charles Rennie Mackintosh. Their 3D models are under each product when you scroll down:
https://www.cassina.com/it/en.html
PLANK is an Italian design furniture manufacturer with a passion for intense research in industrial production technology and an innovative approach to form. Plank produces furniture by leading designers such as Konstantin Grcic, Naoto Fukasawa and Biagio Cisotti + Sandra Laube. PLANK products have won numerous prizes and awards, such as the XXII Compasso d'Oro (MYTO chair) and the iF Product Design Award, Gold (MIURA stool) and are part of the collections of major museums including The Museum of Modern Art in New York, The Design Museum in Munich and the Art Institute of Chicago. The 3D files are on each product page under "CAD Data" happy downloading:
https://www.plank.it/en/products
MUUTO – Muuto is rooted in the Scandinavian design tradition characterized by enduring aesthetics, functionality, craftsmanship and an honest expression. This brand has some really fresh and modern furniture. Here are their libraries: